Google Analytics provides insights and calculates actions taken by users across your app and website. It also predicts the future actions and helps you to take decisions and grow your business. Google has introduced two new predictive properties in Google Analytics.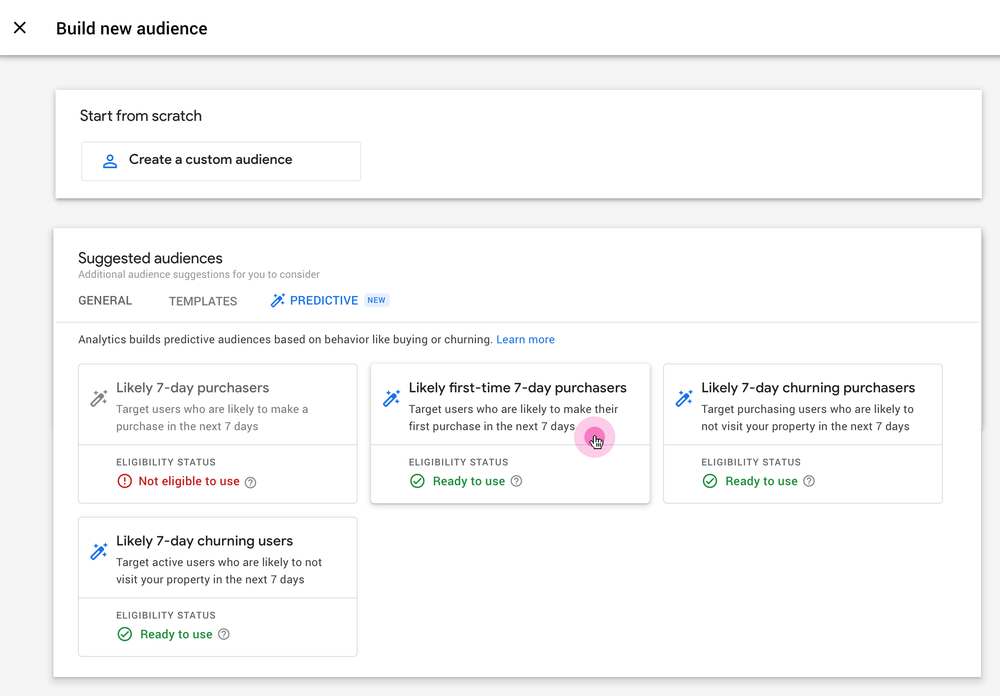 Purchase Probability
Purchase Probability will predict the probability of the user to make purchase on your app or website in next seven days.
Churn Probability
Churn Probability will predict how likely the recent visitors will not visit your app or website in next seven days.
This will help you drive your users to make purchase or make them to visit your app or website again with the help of Google Ads.
In the past you might have contacted the users who added some items into their cart but didn't purchase. But this method won't help you to connect to users who didn't add any item into their cart but likely to purchase in next few days. Predictive audience not will automatically find those customer actions that are likely to lead to purchase of a product. This helps you to find more people and convert into sales.
Availability in Google Analytics
These new predictive analytics will be available to you in App + Web properties beta in coming weeks. You need to meet certain thresholds in order to use these new properties. These metrics will become available in properties that have purchase events implemented or are automatically measuring in-app purchases.
Links – https://analytics.google.com/analytics/web/