We all know how time is important in our lives and we plan many things everyday and try to complete those tasks. We use various tools to track our tasks, remind us and help us in completing those tasks. Among them Google Calendar helps you to make the most of your day. Following 7 tips will help you change your life style.
Google Calendar is filled with intuitive tools and tightly integrated with other G Suite apps—including Gmail, Meet, Drive, Contacts and Sites—to help you stay on top of your day-to-day schedule.
Meeting time that works for all
In Google Calendar you can find out when other's free time intersects with yours. Follow these steps and schedule the meetings.
Go to Calendar
Click on Search for people
Search for the person you want to meet
If the person belongs to your organisation or school you can select their name and see their calender overlaid on yours
Click on open slot and fill meeting details
Save
If you want to invite a Guest to a meeting then Google Calendar will send the person a unique code to login to the meeting.
Time Zones are not a problem
You can add time zones to your calendar. You can add multiple time zones which will help you schedule meetings across the world. Go to Settings Icon > Settings > Time zone > Click Secondary time zone > Add time zone. If you want to add multiple time zones then go to World clock > Show world clock. Selected time zones will show up on left-hand side of the calendar below the month view.
Make Note of Other's Working Hours
We should be careful not to interrupt other's working hours. Google has made it easy to set your working hours and you can also see others working hours.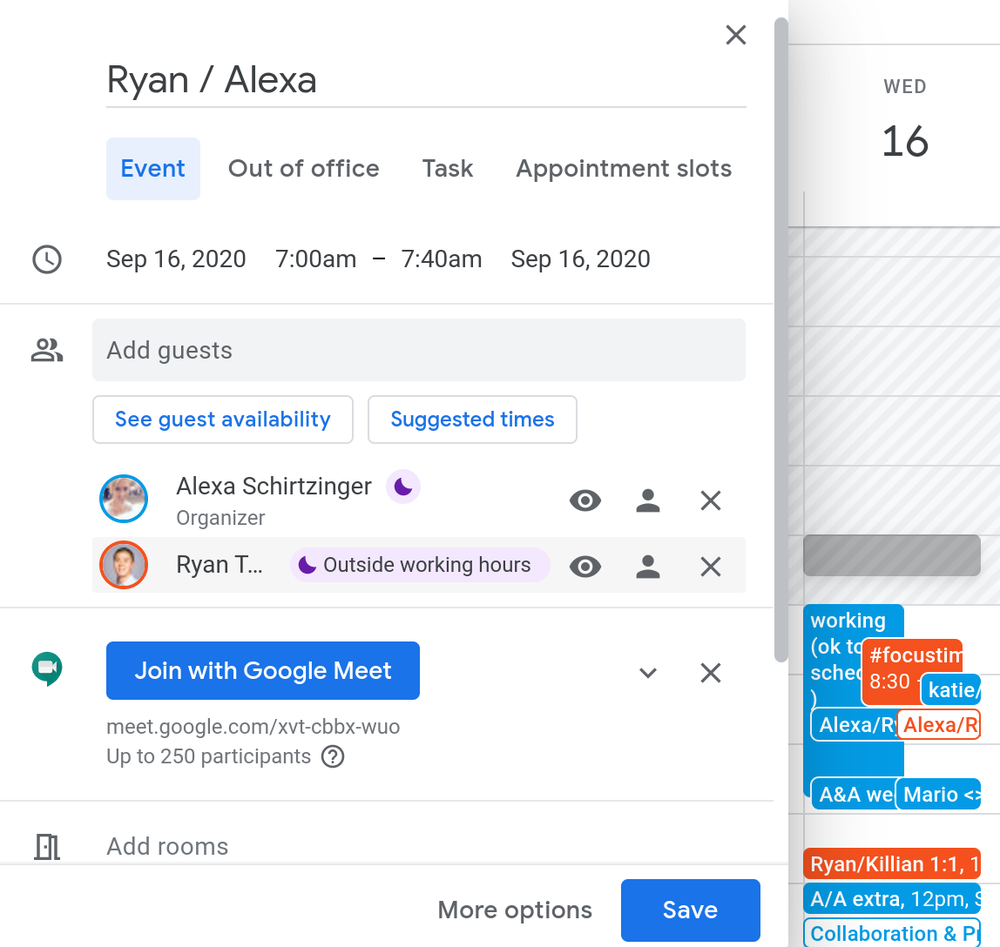 To set your working hours, click the Settings icon in Calendar > Settings > General > Working Hours > Enable working hours. Select the days and times that you work. This feature can be turned on or off on a computer, but not via the mobile Calendar app.
This feature will help your co-workers to reduce scheduling meetings outside your working hours. You can add Out of office timings to the calendar. Meeting invites will be automatically declined during that time period. To add Out of office, select a start date from calendar > Select Out of office > Select dates > Custom Out of office message.
Share your Calendar
It is very important to share your calendar with others. This will reduce the to and fro emails for availability. It is very critical for people who are having lot of meetings.
To share your calendar broadly or with specific people, go to the My Calendars section, hover over the calendar you want to share, click on More (the three vertical dots), then Settings and sharing.
Control Visibility
Privacy is at your finger tips. You can control what others see on your calendar. You can change visibility of an event by changing it from Default Visibility settings. Select an event > Default Visibility > Change Privacy > Save.
To-do List
It is easy to add a task to to-do list there is no need to maintain separate application for your tasks. Google Calendar lets you to add and track the tasks. To add a task to your calendar, Click Tasks > Add a task > Add details and time.
You can also add tasks to your calendar from Gmail, Google Drive, or from a file in Docs, sheets or slides.
Take a break
When we are having back to back meetings, we require few minutes of time to prepare for next meeting. Google calendar got you covered. Set the scheduled events to end five minutes early. Go to even settings and select Speedy meetings. Instead of closing event early, start your meetings five minutes past hour or half-hour.
To learn more about how Google Calendar can help you make the most of your day, visit the Calendar Help Center.